Déaglán de Paor: From Sisal to Wool/Weaving to Tufting.
CURRAGH TINTAWN CARPETS
FROM SISAL TO WOOL / WEAVING TO TUFTING
Carpet manufacturing commenced in Newbridge when Irish Ropes Ltd., established by Eric Rigby-Jones in 1933, set up a carpet weaving operation in 1937. The traditional method of carpet manufacture until the late 1950's was weaving, and Curragh manufactured carpet on Wilton & Flatbed looms.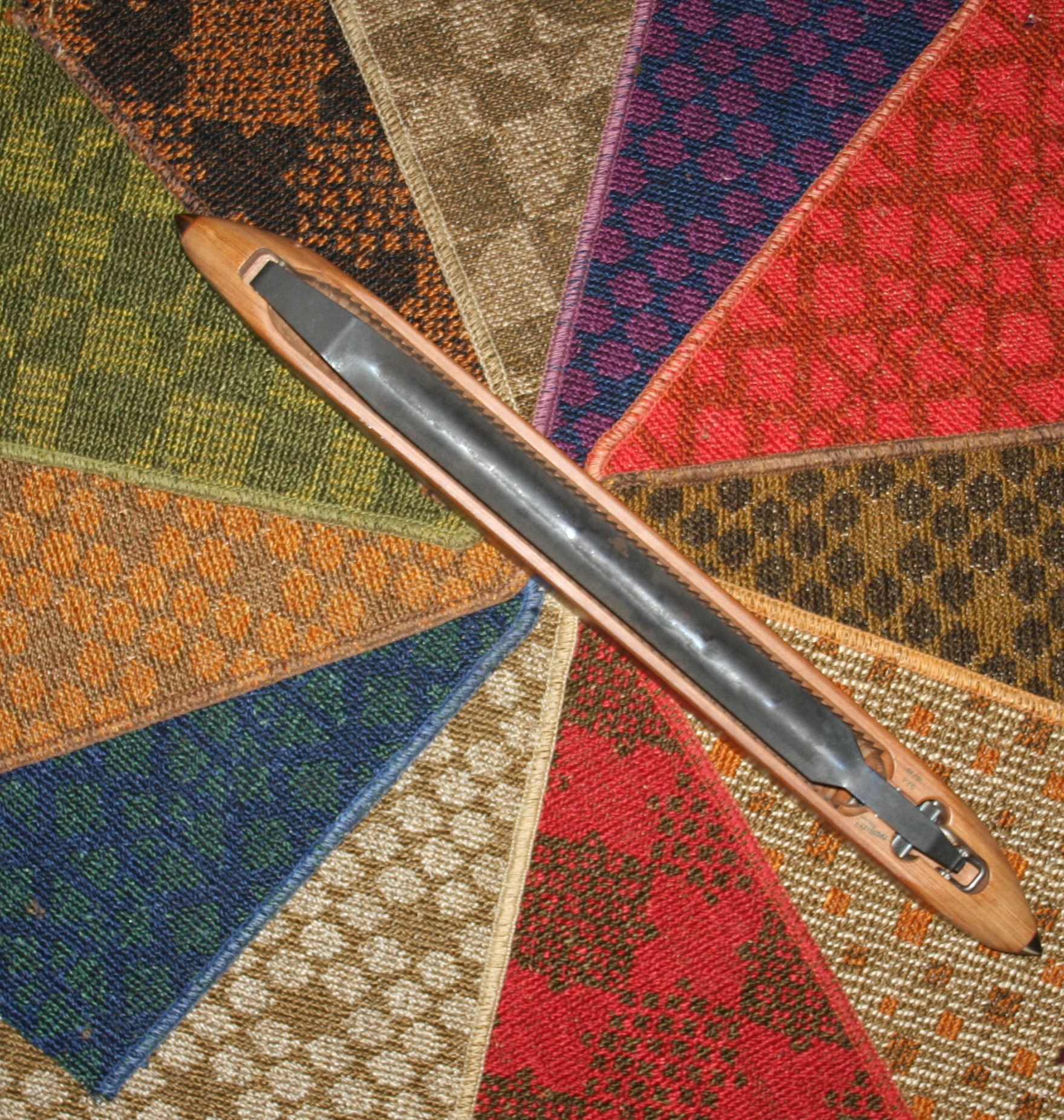 Example of Curragh's Bouclé 100% Sisal Carpet from 1960's, with Shuttle. (Photo:Déaglán de Paor)
In the early days of carpet production in Newbridge, carpet was manufactured from a natural fibre called sisal which was mainly sourced from the African state of Tanzania. At this time most of the ropes and twine produced in the Irish Ropes factory were also made from sisal. The sisal was imported in its raw form in large 250 Kg bales, and once received in Newbridge it was cleaned, carded, spun, twisted, and dyed in the 'Ropes factory. Some of this sisal was also manufactured into carpet yarn, and subsequently woven into intricate designs on looms by skilled craftsmen from Newbridge and the surrounding areas.
The "Tintawn" Brand name will be forever associated with the quality woven sisal carpets manufactured during this period to the mid 1970's. These carpets were exported worldwide, and in the early years their journey to far-flung parts of the world started in Newbridge Railway Station (which only closed to freight in 1976).
Many well-known designers were involved in the design of carpets manufactured in Newbridge over the years– among them were Louis Le Brocquay, Margaret Leischner, Joan Bergin & Eileen Ellis.
In the mid 1960's what was then known as the Irish Ropes "carpet division" built a new production plant in the town centre and in 1969 commenced purchasing (then) newly invented carpet manufacturing machinery called Tufting Machines. Coinciding with these technological developments in manufacturing processes, new carpet yarn fibres were also being developed.  Thus began the move from sisal as a raw material to wool, wool blends (mixtures of wool with man-made fibres such as nylon, acrylic, polyester) and polypropylene. Curragh Carpets Ltd., was formed as a company within the Irish Ropes Group in March 1970, and soon began its expansion by manufacturing carpets from pure new wool and synthetic materials bearing such well-known brand names as Tintawn, Cushlawn, The Irish Collection, Softcord and Curragh carpets. The company ceased weaving in 2005 to concentrate on their tufted production. However, some of the looms previously used in Newbridge continue to be used in the manufacture of carpets in Axminster Carpets.
In 1994 Curragh Carpets was purchased by Axminster Carpets Ltd. a company also founded in 1937 and based in Devon, England. In order to further expand production capabilities, and having "out grown" the town centre factory (originally built in the 1960's), in 2006 the Company moved its manufacturing operation to a new 2 hectare green field site, where they operate from a purpose built premises of approximately 8,300 M² on the Green Road at the edge of the Curragh.
For over seventy five years Curragh Carpets has built its name and reputation on the quality of its Guaranteed Irish products, and the company continues to produce for the Irish and export market. Wool and wool blend yarns are the preferred raw material used to this day and continuing their tradition of innovation they are now manufacturing Carbon Neutral Wool-rich carpeting.
Déaglán de Paor (C) 2012.