Vincent Brady Covid Archive
CYCLING THROUGH THE PANDEMIC OF 2020
Being retired I got in the habit of going for a walk on a couple of days a week usually of 30-40 minutes duration. As the pandemic took hold and safety precautions became the norm the thing I noticed most on my walks was the 2 meters distance between walkers. This meant that sometimes I was walking in the grass verges or even on the road to maintain the gap. Within a short time people in my age group were asked to remain indoors and to avoid going out. After a lockdown of six weeks we were again allowed out again for exercise purposes. I felt reluctant to take up my walking and instead I decided to take out my bike and go for a short spin. My first route was around by Roseberry Bog. With little traffic, few walkers and lovely sunshine I found the spin exhilarating. After 2 weeks of this it occurred to me that I should bring my Infrared (IR) camera on my trips.
I've been involved in photography for over 40 years and along the way I encountered Infrared film and became an ardent user of it. The film manufactured by Kodak gave black skies with luminous white clouds, foliage both trees and grass was rendered in shades of white. The finished image was both dramatic and ethereal and afforded you a new way of representing your surroundings. Once seen you will always recognise an infrared photo.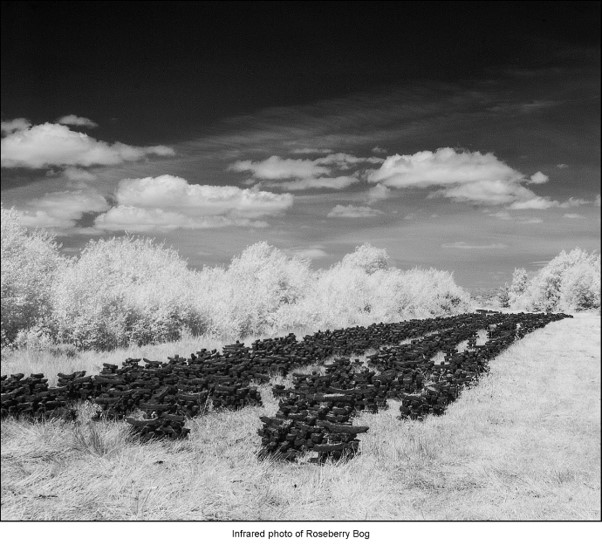 Of course with the arrival of the digital age photography took a major change with the digital cameras now able to shoot Infrared photos without the need of film. It was possible to have your camera converted to shoot infrared (IR) only. I had bought one of these cameras second-hand from a friend but rarely got around to using it.
But now armed with this camera my spins around the bog became even more interesting. With the summer sunshine I could check out the photographic potential of spots as I passed. Among my early photos was this one which I was really pleased with.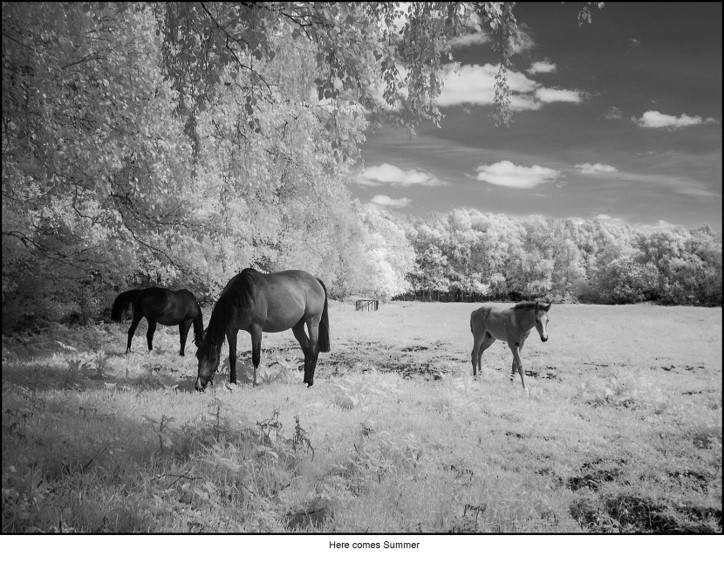 Having made a good start with combining photography with my cycle trips I decided a variation in my routes would extend my photo output. Barrettstown Cemetery and Victoria Bridge were two areas that were always good for yielding nice photos. The trees along the bank of the River Liffey got most of my attention and were more striking when processed. Now that I had several successful photos from my trips the thought of producing a photo book* occurred to me.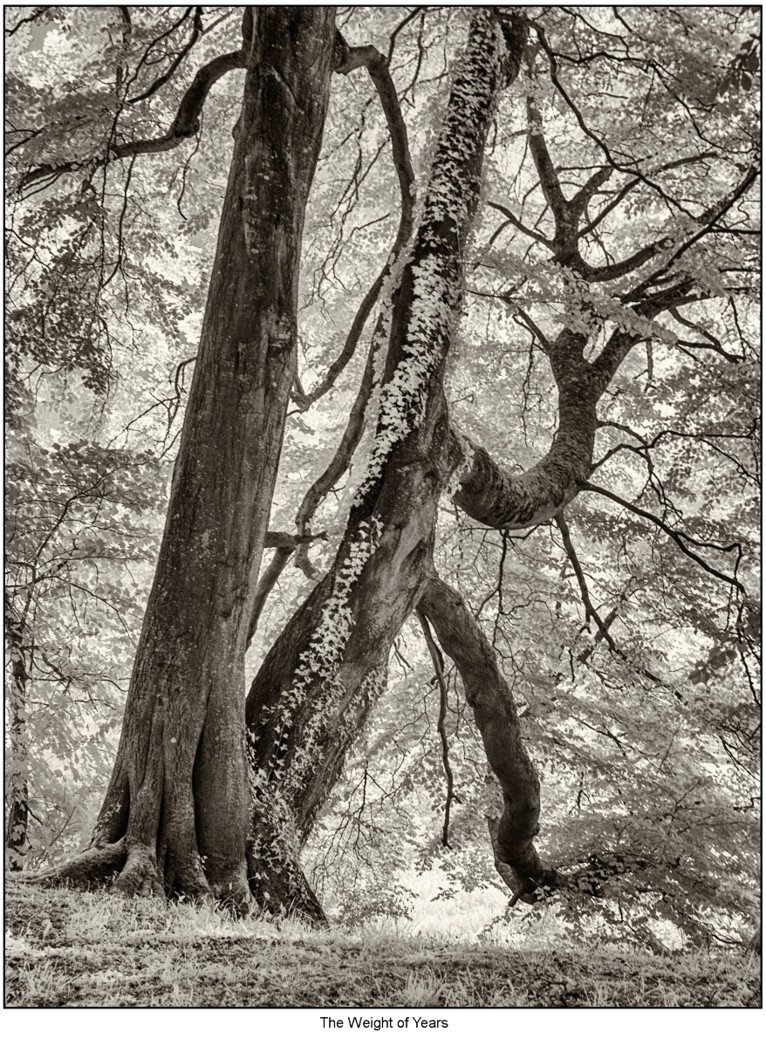 Moving on from here another favourite spot for me is out at Great Connell Churchyard and Great Connell Abbey. A popular subject when using IR are graveyards and ruined churches especially if they are overgrown and gone wild. A change in my route from here brought me out to Corbally Harbour on the Grand Canal.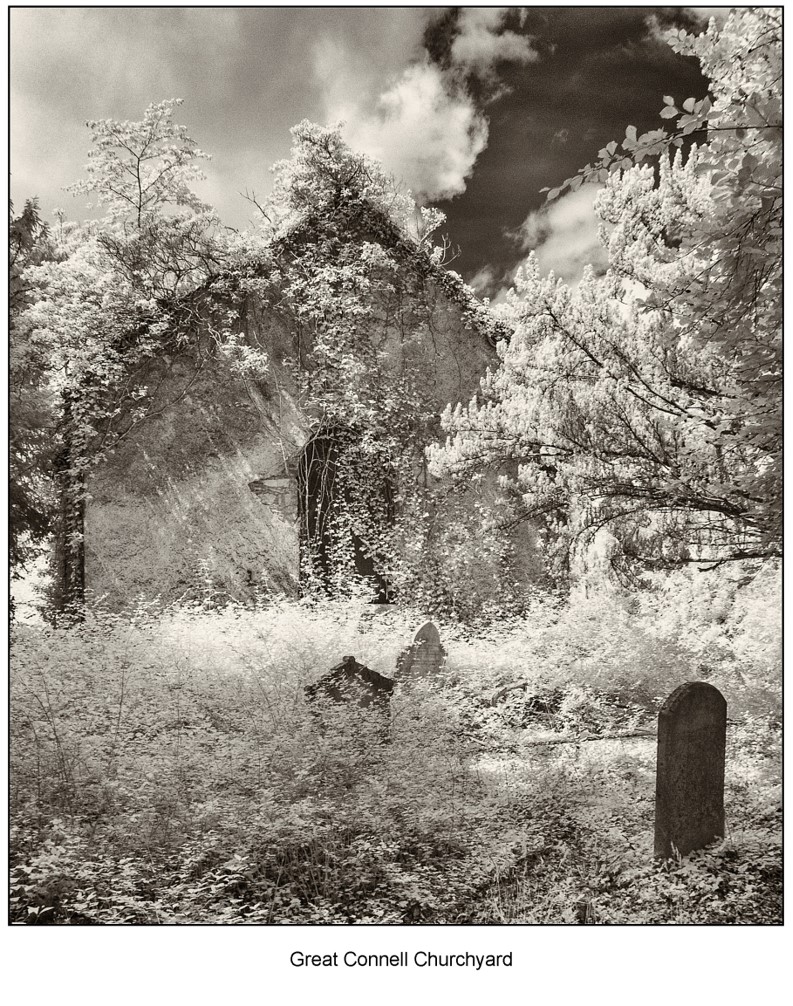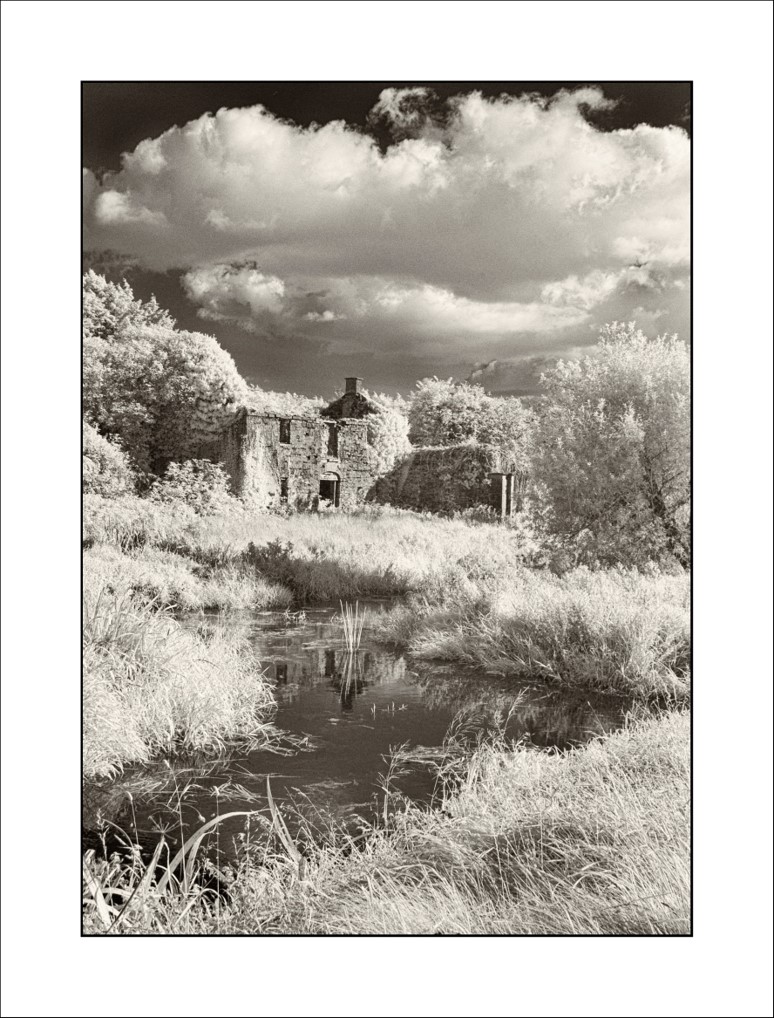 Corbally Harbour
Heading home from here took me onto the Athgarvan road. One of the joys of cycling is that you have the opportunity to observe the area as you move through it. This lead to my discovery of an abandoned farmhouse with old farm machinery scattered around. I certainly enjoyed my visit there and such was the abundance of subjects there that I visited it on several occasions.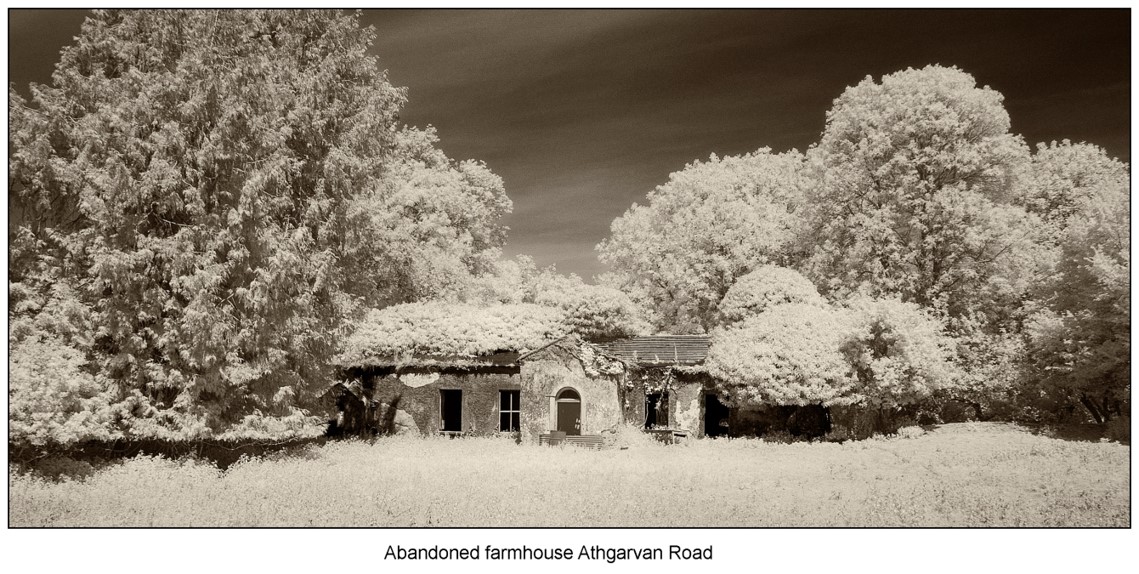 The Curragh plains were my next port of call. The military graveyard with its rolling hillside walled enclosure and few trees always offer the photographer a new way of seeing it no matter what the weather is like. I've been taking photos there since the 1970's and I still find new ways to capture it.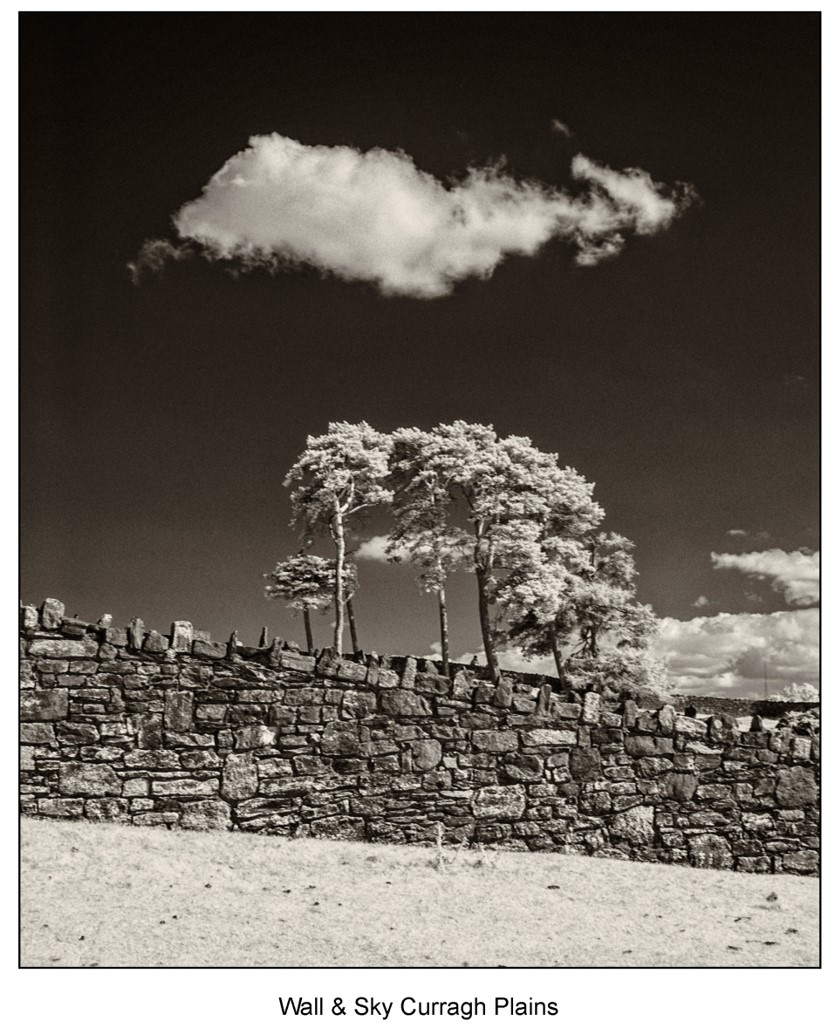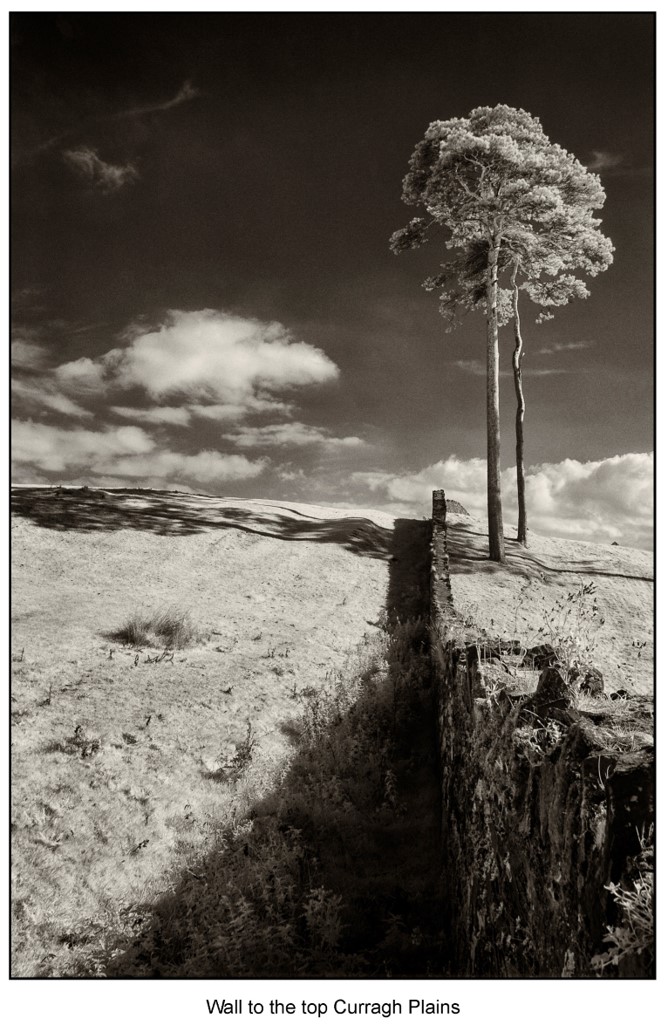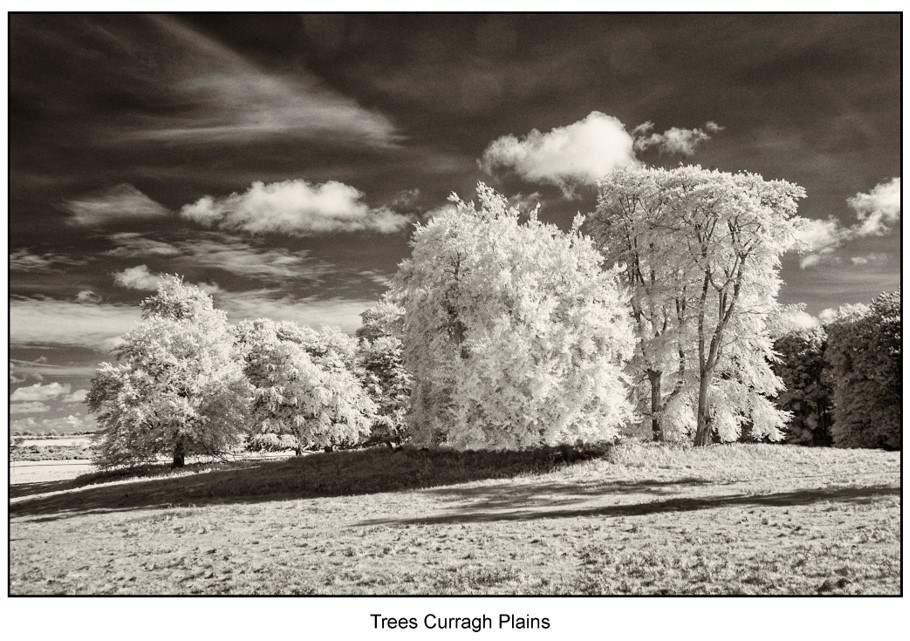 One last area on my list was Pollardstown Fen which I had visited on occasion over the years. To cycle out to it and return home via Milltown proved to be my longest spin even without stopping to take photos. But once again the benefit of cycling while looking for possible pictures proved successful. While passing a gateway to a field what caught my eye were a herd of horses grouped together and all facing in the same direction. This I thought was worth recording so I got busy taking various shots with different compositional styles when a car pulled up beside me. The mystery of the bunching up was explained to me as the driver told me that he arrived at same time every day to feed them.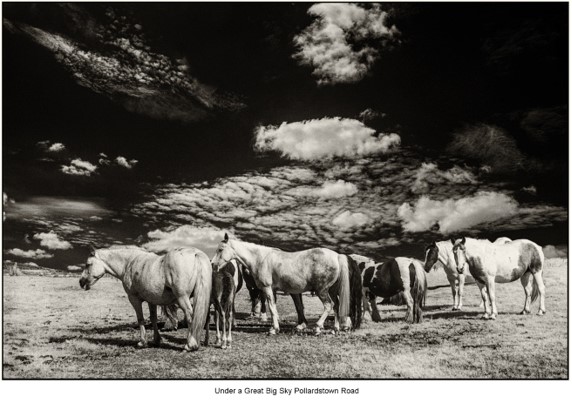 At this stage I felt that I had enough photographs for my book so my next task was to pick and choose my entries into it. The first thing I realised was that I had too many photos of different graveyards so a cull was necessary in order to avoid a sombre look to it. Next was to be sure my personal favourites were included. In the end I finished up with 32 photos which I felt captured the essence of my project.
Last but not least was to design the cover and pick the cover photo. From my early visit to Barrettstown Cemetery when I had photographed the trees along the river this one photo appealed to me most.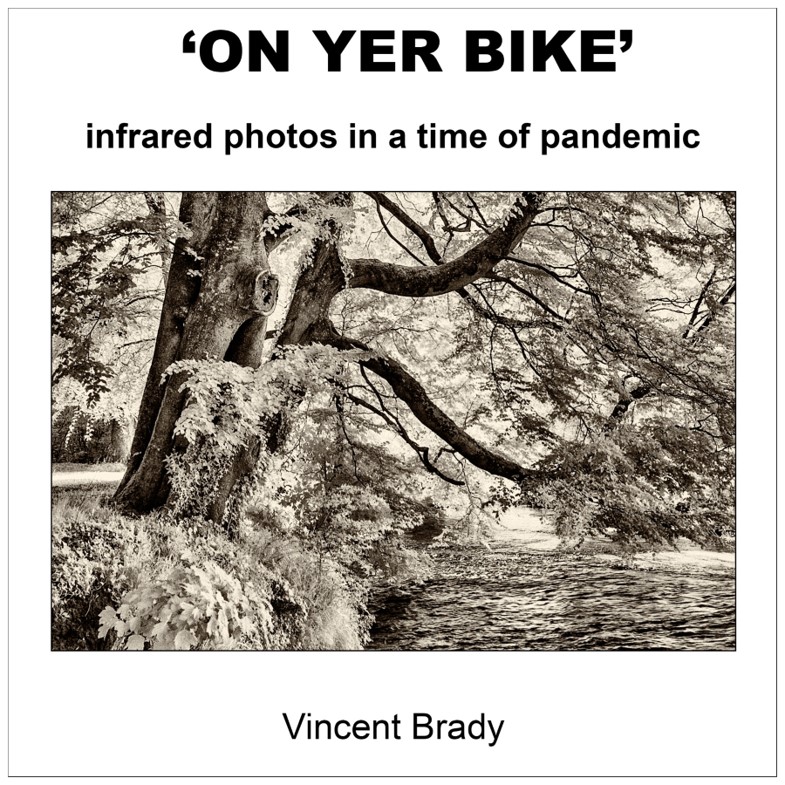 Most photographers dream of travelling abroad to take exciting pictures and I have done this myself over the years without really considering my own home place. Faraway hills may be green but when the occasion demands it there is often beauty to be found on your own doorstep. Just get a bike.
© Vincent Brady
For an Audio/Visual version of my photos click on :
https://vimeo.com/511323805?fbclid=IwAR1rTt_3CK7effPBDgU3x1hsMCvfXMoq51diIERb6mnH1S7BmH9tQ6WthVM